101 Practical Strategies to Help Make Your Construction Business More Profitable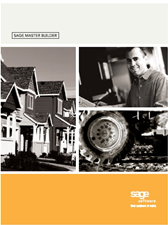 From managing change orders, to tracking material costs, to analyzing profitability, Sage Master Builder construction management software gives you the power to run your business more successfully.
You'll read about useful tips that can affect your bottom line in a variety of areas from more effective communications to construction billing.
We chose the most practical and easy to implement ideas and compiled this booklet. Not every strategy will fit your company's business model, but by taking advantage of the ones that do, we are confident you will start seeing greater profits.
Please complete the following form to proceed immediately to download your selection.
Used with permission from Sage Software