Sage Master Builder Product Overview Guide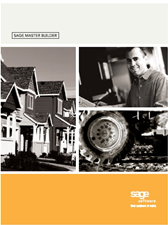 Construction is a complex business. Sage Master Builder software helps you gain greater control of your business to achieve higher levels of efficiency, productivity, and profitability.
It is a fully integrated construction management software system designed exclusively for the construction industry. Sage Master Builder integrates the four phases of the construction business "Profit-Cycle" - estimating, production, accounting, and analysis - to give you the insight and functional efficiencies vital to achieving cost savings and profitability.
In a word, YES. Sage Master Builder software's integration and construction-trade set-ups serve the needs of general contractors and subcontractors across. But, Sage Master Builder is more than just software; it offers the comprehensive services and support you need to get the most out of your investment.
Please complete the following form to proceed immediately to download your selection.
Used with permission from Sage Software